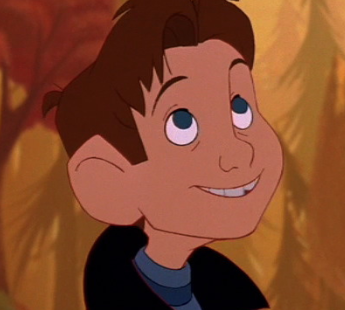 Full Name:
Hogarth Hughes
Alias(es):
Hogarth
Age:
Eleven
Skills:
Photographic memory, Hogarth can remember everything he sees, hears, or reads.
Occupation:
Odd Job/Errand Boy
Personality:
Hogarth is a bright kid, both school smart and quickly picking up street smarts. With his photographic memory it's easy for him to recall things he had learned and likes to make a habit of showing people just how smart he is, though is smart enough to know who not to show it too. He's rather idealistic, holding onto the beliefs and ideals his father had when he was alive, thinking that the system can work and that he can slowly change the world by doing good and helping his fellow neighbor. But that's not to say he's gullible and naive, he's lived in the city his whole life and knows not everyone follows by that. So he's careful as best as he can. He's a hard and determined worker, following orders and not stopping til a job is done, he's determined to help his mother out as well as he can. But he's still just a kid and at times can be rather childish. he doesn't like to eat his vegetables, hates school despite being so smart, and likes to sleep in on the weekends. Sometimes he'll think about how unfair it is that he has to be the responsible one when he's just a kid, finds it unfair that his mother can wallow away and seem to forget about him, but at the end of the day he loves his mom and knows she needs him now. And with that, he'll continue to work late into the night and help take care of her as she doesn't seem able to do it herself. Though it has left him exhausted, both physically and emotionally.
History:
Hogarth has lived in the city his whole life, with his mom as a bank teller and his father a cop. His father was a great cop, not corrupted by the city's poison and did his best to put scum behind bars. He had an idealistic mind view, that the system worked and in the end good would triumph over bad. Ideals that he passed down to his son and taught him to never let the world change him for the worst. To keep hold of a good heart and help make the world a better place. Unfortunately said ideals did not save the man. His father died -or rather was killed- while on duty. Police reports say it was a cross fire from a gang shooting, though if it was true or not was anyone's guess.  But in the end, a good man was dead, and he left behind a son, a wife, and an unborn child.
With the father gone, things took a downward spiral in young Hogarth's home. His mother didn't take her husband's death well and through the anxiety and stress of the terrible changes in her life, she miscarried. The miscarriage was the final straw to shatter her world and she fell into a deep depression. Eventually she stopped going to work, lying in bed all day and starring into nothing, and after that she was fired. Hogarth didn't entirely understand what was wrong with his mother, other than the fact she was very sad, but did his best to keep things afloat.
They thankfully had enough savings, in addition to his father's life insurance and the state's death benefits payments, that allowed the means for the bills to be paid and food to be bought, but Hogarth knew that money wouldn't last forever. And so, he sought out work late at night by anyone who would hire a ten year old. He found various odd jobs to do that made him some pocket cash, but if he was ever going to be of real help to his mother, he had to work more.
This led him to working late into the night, and sometimes pick up a paper route in the early mornings before school. Between work and school, he continued to take care of his mother by making sure she ate and cleaning her up as well as cleaned around the house. He took short naps whenever he could, and taken to drinking coffee to be more awake in class so that his teachers wouldn't get too suspicious (though doubtful that they would). He knew that if anyone knew what was going on at home, his mother would be declared unfit to take care of him and he'd be put into the system. That was the last thing he wanted. And so, he continues to work, seeking out whatever well paying job he can get.
Extra:
A frequent job of his is at the Tip Top Club. He also likes to draw.