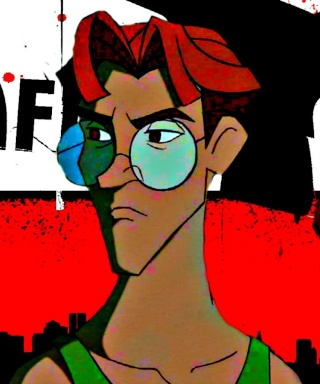 Full Name:
Milo Thatch
Rourke
Alias(es):
'Black Sheep' among the police force who know of his blood relation to Lyle Rourke.
Age:
24
Skills:
One of the best negotiators in the Moriarti family. Milo's is more of a speaker or paper work kind of guy, but he's downright precise aimer with a pistol.
Occupation:
Joseph Korso- Moriarti consigliere
Personality:
Milo's an intelligent mild-mannered male who can be charming at times, but doesn't really realize that. He's oblivious to certain things such as others being attracted to him. Milo's very dedicated to his job, so he'll snap at others who get in his way of work. He's quite logical, thinking ahead before acting which causes him to butt heads most of the time with the stubborn Korso. Pretty much a smart-ass when it comes to people that he dislikes or others that can get under his skin sometimes. Witty, Considerate, Humorous, Observant, Persuasive, and Blunt.
History:
Milo was born as the son to a Chief of Police, Lyle Rourke and the older brother to Aurora. He had also befriended the Sinclair siblings, Helga and Zak, who were his neighbors. Due to differences between him and his father, Milo didn't exactly follow in the pathway of the law.
[This will be explained later on]
Ironically, Milo began working with mafia gangs in Attica city, his rank and value raising as he continued to impress the gangs with his intellect and negotiating abilities. Then Milo soon began to work for one of known gangs ran by Whitmore, due to his friendship with Helga. Whitmore had been deciding to make Milo his consigliere, but unknown to him, Milo had met Joseph Korso- Moriarti a couple times. To his surprise, Milo accepted Joseph's proposition of being his consigliere. This caused some bad blood between Whitmore and Milo, also damaging Milo's friendship with Helga Sinclair.
Currently, Milo's enjoying his job as an advisor to Joseph, although it does get a bit hectic and troublesome at times. Some of the gang members get on his nerves, but there were still alot of
friends
that Milo has attained in the Moriarti gang family such as Annie, Joseph, Loki, John Smith, and Jessica.
Extra:
Currently confused about sexual orientation